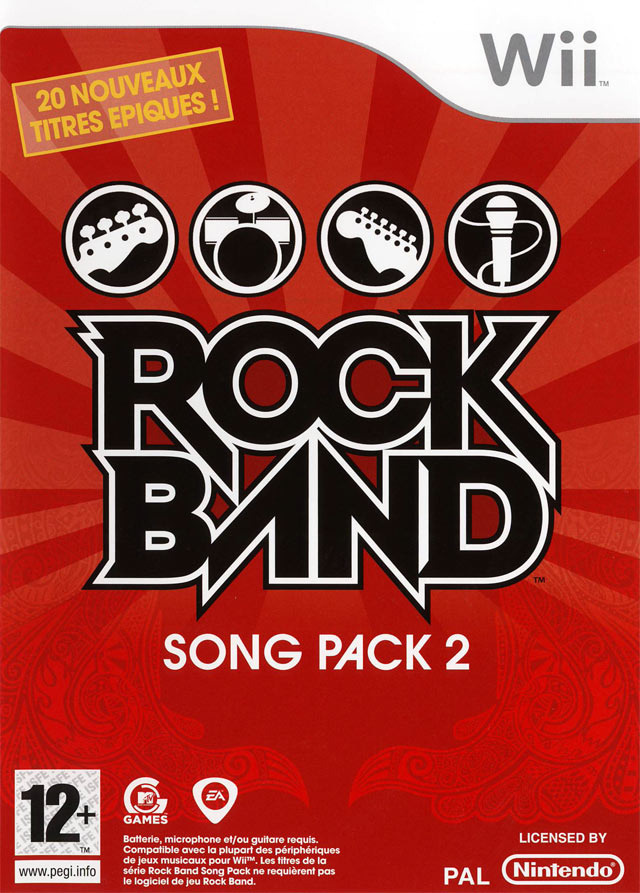 Éditeur : Electronic Arts
Développeur : Harmonix
Type : Rythme
Date de sortie Française : 16 avril 2009
Rock Band Song Pack 2 sur Wii propose un pack de nouvelles chansons pour le jeu Rock Band. Ce jeu musical propose de vous placer au coeur d'un groupe de rock. En utilisant les accessoires spéciaux, vous pourrez au choix vous asseoir derrière la batterie, jouer de la guitare ou de la basse ou même chanter dans le micro. Au programme de ce pack : 20 nouvelles chansons, parmi lesquelles The Police, The Pixies, Red Hot Chili Peppers, ou encore The Smashing Pumpkins.
Hébergeur : Multi-Host
Plateforme : Wii
Format : WBFS
Langue : Multi
Découpé avec : WinRar
Nombre de fichiers : 2 + 1
Taille des fichiers : 996 Go +  970 Mo
Taille totale : 2,96 Go
 Up par Saiyuki1971
 Mot de passe : Saiyuki1971
Vu :27599
2 Réponses à "[Multi-Host] Rock Band Song Pack 2 [Rythme][PAL][Wii]"
ashds Dit:
18 juillet 2016 à 10 h 51 min

Bonjour, tous les liens sont morts.

Saiyuki1971 Dit:
20 juillet 2016 à 18 h 26 min

OK pour les 2 packs, je rajoute dans ma liste d'ups en cours !!
Laisser une Réponse
Vous devez être connectés pour poster un commentaire.